Judo is the first martial art added to the Olympics and was included as a sport during the 1960's. It is the 2nd most participated sport in the world. Judo tickets were the first to sell out, before any other sporting event during the Sydney Olympic games.
Judo is an effective self defence martial art and is an ideal sport for maintaining good physical fitness.

Self defense skills are taught at the club and a self defence program can be tailored for your specific requirements. Self defense skills are taught to men woman, children, and to people pursuing other sporting events to help in the areas of falling down safely.

Our club premises is located in the eastern suburbs of Melbourne. The Dojo (Judo club) has permanently laid Judo Mats. It is close to public transport and is located centrally in the eastern suburbs.
Many of our club members have trained/competed with some of the national Judo team in preparation for the Sydney and Athens Olympics.
The club is a small club which allows for one on one coaching. Some of our juniors participated in the Victorian State Judo titles held in Melbourne.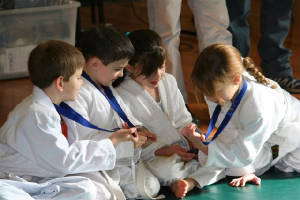 Our club under eights comparing medals.
Enter you name and Email to be included on our newsletter distribution list, or just leave us your comments.

VIC 2005 School tournament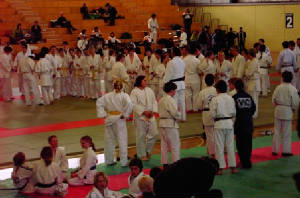 Australian Judo. Victorian Judo in Australia. Judo australia, Judo Australia. Judo, Judo , Jitsu, Judo in Australia. Australian Judo. Judoaustralia.com.au, Judo.com.au. JUDO. judo, AUS Judo. ausjudo.com.au. JVI IJF JFA

Competition Judo

Judo Australia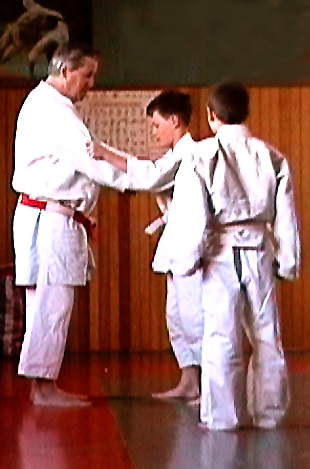 Australia Judo
This is a picture of the founder of our Judo Club. He is pictured here teaching junior students at the Dojo located in the Melbourne suburn of Ashwood.

Sensai Bob Todd 7th.Dan B.A. B.Ed. Level 2 N.C.A.S. Chairman J.F.A.INC.National Grades Commission Past President AA.J.A.( 5years) Past President Judo Victoria Inc.( 5years) Vice President J.F.A Inc.(5 years) Member Victorian Government Professional Boxing & Martial Arts Board.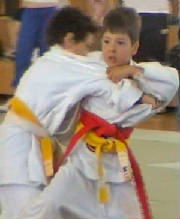 Copyright 2000 - 2015 Michael Karakinos.